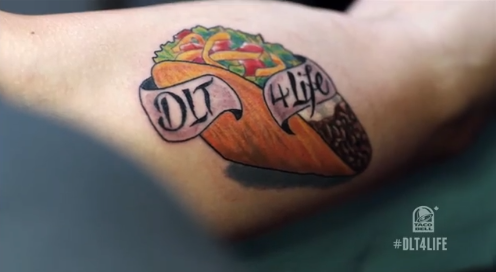 In a stunning show of solidarity with some Canadian guy named Tyler, commenter Shane Randall has boldly stepped forward to defend man's right to get a tattoo of a taco in exchange for a lifetime supply of Doritos Locos Tacos from Taco Bell.


Supporting the defenseless Canadian in the face of vicious comments such as "Wow, that guy must be really stupid" and "At first I didn't believe anyone could be so dumb but he sounds like he had bumped his head pretty hard," Shane Randall stepped forward to point out that it's "no different than a guy with a maple leafs emblem," although it's not for him, but again that's what he likes and he get paid for it.
In a stunning turn of rhetorical play, he also pointed out that leafs fans don't get free tickets for life in exchange for getting a tattoo of the team's logo.
"Way to go," he added.
No word yet from Tyler, Taco Bell, or the Toronto Maple Leafs, but we consider this argument pretty much over.